Page 7 - Cortland County Convention & Visitors Bureau
P. 7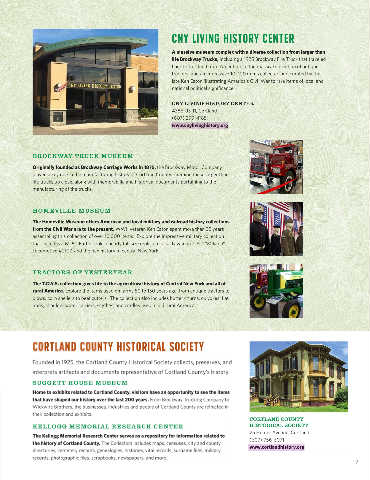 DISCOVER THE PAST IN CORTLAND COUNTY
 History  C  ortland County has a rich history that dates back more   CNY LIVING HISTORY CENTER



 than 200 years.  From historic homes and monuments,
                                                          A massive museum complex with a diverse collection from larger than
                                                          life Brockway Trucks, including a 1925 Brockway Fire Truck that traveled
 the wire and Brockway Truck industry, and military history,
                                                          back to Cortland from Argentina, to the massive collection of antique
 we are proud of our traditions and cultural footprint.
                                                          tractors, and an impressive 10,000 items collected and curated by the
                                                          late Ken Eaton illustrating America's Civil War to rare items of local and
                                                          national political significance.

                                                          CNY LIVING HISTORY CENTER
                                                          4386 US-11, Cortland
                                                          (607) 299-4185
 1890 HOUSE                                               www.cnylivinghistory.org


 MUSEUM

            BROCKWAY TRUCK MUSEUM
 Be prepared to be transported to 19th century Cortland at the 1890 House Museum! Built for the   Originally founded as Brockway Carriage Works in 1875, the Brockway Motor Company
            played a key role in the manufacturing history of Cortland County. Examine these larger than
 late 19th-century inventor and industrialist Chester Wickwire, the home is a standing time capsule   life trucks up close, along with memorabilia and historical documents pertaining to the
 illuminating the life of the wealthy Wickwire family.    manufacturing of the trucks.

 The impressive limestone mansion, located in the heart of downtown Cortland, is listed on the National
 Register of Historic Places. Designed in an eclectic, Chateauesque-style, the inside of this lavish 30-room   HOMEVILLE MUSEUM
 residence showcases parquet floors, jewel-like stained glass windows, oak and cherry woodwork, and ornate
 decorative stenciling.  The Homeville Museum offers American and local military and railroad history collections
            from the Civil War era to the present. WWII veteran Ken Eaton spent more than 35 years
 Chester Wickwire and his brother Theodore invented a wire mesh for window screens, wire fences and   assembling this collection of over 10,000 items.  Explore the impressive military collection
 household items. As demand continued to grow for the products, the brothers opened a large factory on   that includes a M-60 Battle Tank, a nearly full size replica of a Lackawanna 2-8-2 "Mikado"
 South Main Street in Cortland and became millionaires.   Locomotive #2107, and the rich history of central New York.
 Wickwire products were used during the construction of the
 Panama Canal and The Manhattan Project—the world's first
 atomic bomb (which was dropped on Hiroshima in 1945)!   TRACTORS OF YESTERYEAR
            The T.O.Y.S. collection gives life to the agricultural history of Central New York and all of
 Today, the fully-furnished parlors
 and recreation rooms appear   rural America. Explore the items used on farms 50 to 150 years ago, from antique tractors to
 nearly untouched. The museum   plows, corn shellers to beef cutters.  The collection also includes butter churns, ox yokes, flat
 features restored period room   irons, shoulder water carriers, scythes, and cradles used in old rural America.
 settings, changing exhibitions
 and special programs and events.


            Cortland County Historical Society
 THE 1890 HOUSE MUSEUM
 37 Tompkins Street, Cortland
 (607) 756-7551  Founded in 1925, the Cortland County Historical Society collects, preserves, and
 www.the1890house.org   interprets artifacts and documents representative of Cortland County's history.
            SUGGETT HOUSE MUSEUM
            Home to exhibits related to Cortland County, visitors have an opportunity to see the items
 VISIT NEW YORK STATE'S HAUNTED HISTORY TRAIL            that have shaped our history over the last 200 years. From Brockway Trucking Company to
            Wickwire Brothers, the businesses, industries and people of Cortland County are reflected in
 Calling all paranormal-curious, eerie explorers and   As seen on SyFy Network's Ghost Hunters, the 1890   their collection and exhibits.
 those engrossed with ghosts—the Haunted History   House Museum has a long history... and ghosts!   KELLOGG MEMORIAL RESEARCH CENTER  CORTLAND COUNTY
                                                                                   HISTORICAL SOCIETY
 Trail of New York State awaits you! From hotels to   Voices and footsteps are heard, doors open and close   The Kellogg Memorial Research Center serves as a repository for information related to    25 Homer Avenue, Cortland
 restaurants to a haunted asylum, the Haunted History   on their own and silhouettes of human figures appear   To explore all of New York State's   the history of Cortland County. The Collection includes maps, censuses, city and county    (607) 756-6071
 Trail offers over 90 ghostly adventures across 400   in the windows. The unexplained ghost activity is   haunted locations, or to request a   directories, cemetery records, genealogies, histories, vital records, surname files, military    www.cortlandhistory.org
 miles within nine vacation regions of New York State.   attributed to several historical figures who lived and   haunted trail brochure, visit www.  records, photographic files, scrapbooks, newspapers, and more.
 6  HauntedHistoryTrail.com today!                                                                                    7
 died within the walls of Cortland's Castle.