The Arts of Grace Holiday Celebration
When
Event has ended
Where
Rose Hall
19 Church Street
Cortland, NY 13045
Come to Rose Hall at 19 Church Street in Cortland the home of the Dan & Rose McNeil Foundation on Thursday December 5 at 7pm to enjoy a Holiday Celebration. The Arts at Grace, in collaboration with the SUNY Cortland Performing Arts Department and Triphammer Arts, will present a rich and varied holiday program. The Choral Union will sing settings of classic texts by Franz Biebl, Tomas Luis de Victoria, and the Norwegian composer Ola Gjeilo. Student members of Choral Union will sing "White Winter Hymnal," made popular by the a cappella ensemble Pentatonix. The culmination of the Holiday Celebration will be "A Grinch Medley," with guest artist Steven Stull. There is no admission charge.
The Choral Union made up of college and community singers is the longest-running ensemble on the SUNY Cortland campus. Since the establishment of the Dan & Rose McNeil Foundation in 2018, the group has been supported jointly by the college and the foundation. It performs most of its concerts in Rose Hall. This beautiful space is becoming a resource where the community can gather to mark holidays, celebrations, and enjoy many types of musical expression.
Distinguished guest artist baritone Steven Stull has performed with the Syracuse Symphony, the Rochester Philharmonic, and the West Virginia Symphony. He has also appeared with Glimmerglass Opera, Syracuse Opera, and numerous other companies. He is the Artistic Director of Triphammer Arts, that has partnered with The Arts at Grace in many projects. Having portrayed The Grinch more than 25 times with prominent orchestras, Stull looks forward to delighting an audience again in Cortland.
Now in its 16th season, The Arts at Grace is a community outreach of Grace and Holy Spirit Church supported by individuals, businesses, organizations and foundations from the greater Cortland community, including the Cortland Community Foundation, the Wilkins Foundation, the J.M. McDonald Foundation, and CNY Arts/NYSCA. Free will donations at concerts are gratefully accepted.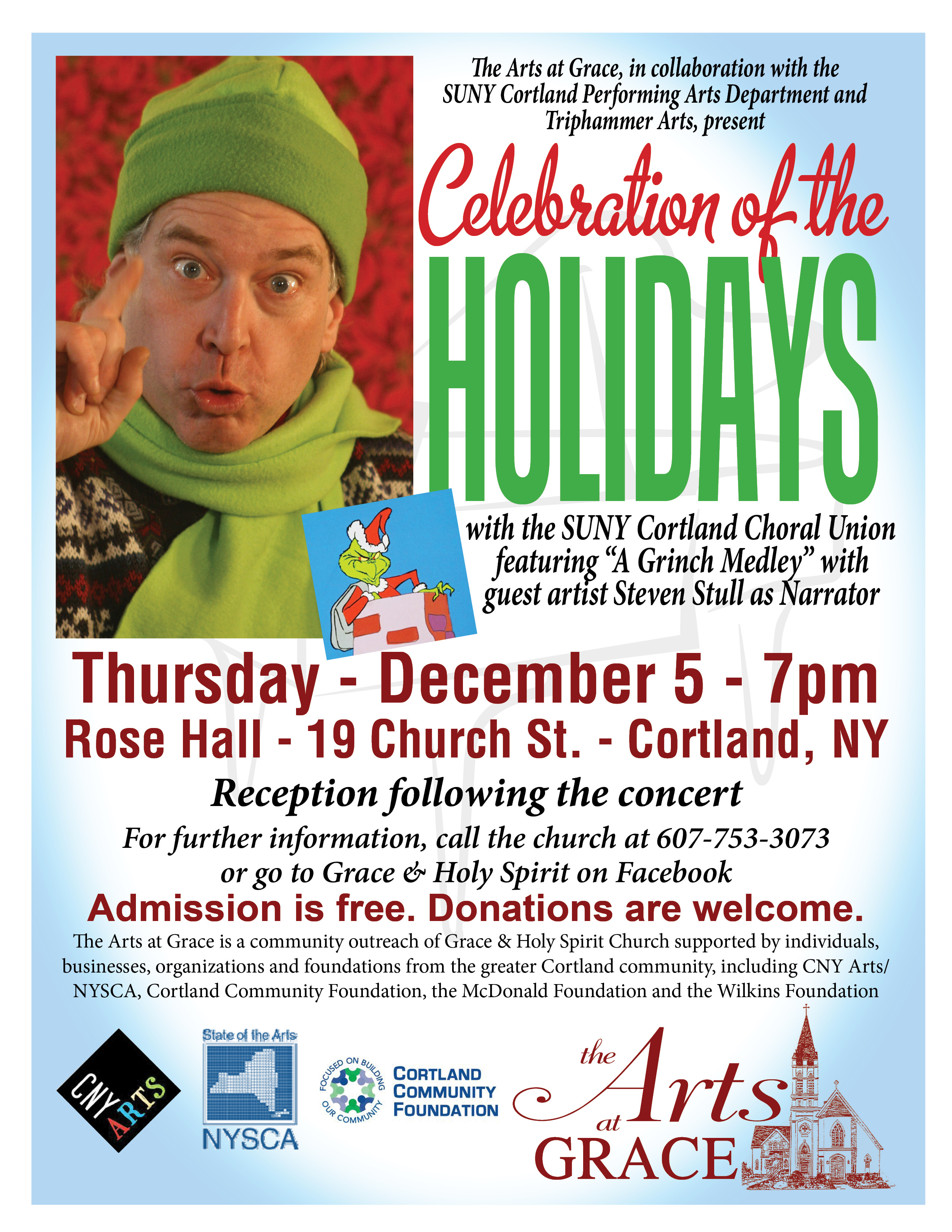 For more information, visit Grace & Holy Spirit on FaceBook.
The Arts of Grace Holiday Celebration
19 Church Street
Cortland, NY 13045

Get Directions