Barns, cows, carnival rides and deep-fried fun are expected at this year's local junior fair!
In just a couple days, locals and visitors alike will be able to enjoy the tastes, smells and thrills that come with the county fair, as the 2019 edition of the Cortland County Jr. Fair begins its five-day run Tuesday, July 9, at the Cortland County Fairgrounds. The fair is bringing back several popular shows to the docket, in addition to the usual slate of livestock shows, pageant queens, agricultural exhibits, and carnival rides. Here are four reasons why you should find the time to take the whole family to the Cortland County Jr. Fair:
ANIMALS, AND MORE ANIMALS
What's a fair without cute and playful farm animals?
Fair-goers can see animals raised on local Cortland County farms entered into the Fair for ribbons and prizes by our 4-H participants. The barns will be packed with show animals with entries in dairy, many for rabbits, poultry, horses, goats, and more. A list of youth animal shows include:
July 9th at Noon: Poultry Show
July 10th at 11 a.m. : Livestock Shows
July 10th at 6 p.m. : 4-H Horse Show
July 11th at 9 a.m. : Dairy Goat Show
July 11th at 1 p.m. : Dairy Cattle Showmanship
July 12th at 9 a.m. : Dairy Cattle Creed Show
This annual event also treats attendees to farm animal-related experiences, animal costume contests, and traditional livestock auctions. Watch cows being milked and learn about the county's dairy industry, and don't forget to stop by the Ag. Corp. Building on Friday and Saturday for the opportunity to catch live calf births.
FAMILY FUN
When you've had your fill of adorable barnyard animals, there's tractor pull competitions and barn yard games to entertain, along with Crossroads the Clown on Saturday from 1-2 p.m. For those who feel the need for speed, here's your chance to race in the Veggie Car Race at 11 a.m. on July 10th.
The attraction all of the kids will be waiting for — the midway — will open on July 10th at 5 p.m. and feature a handful of awesome family-friendly rides. It's gates open Thursday and Friday at 5 p.m., and Saturday starting at 1 p.m. Don't forget to partake in the Midway Money Grab for an opportunity to win a bike. The drawing will take place on Saturday, July 13th at 6 p.m.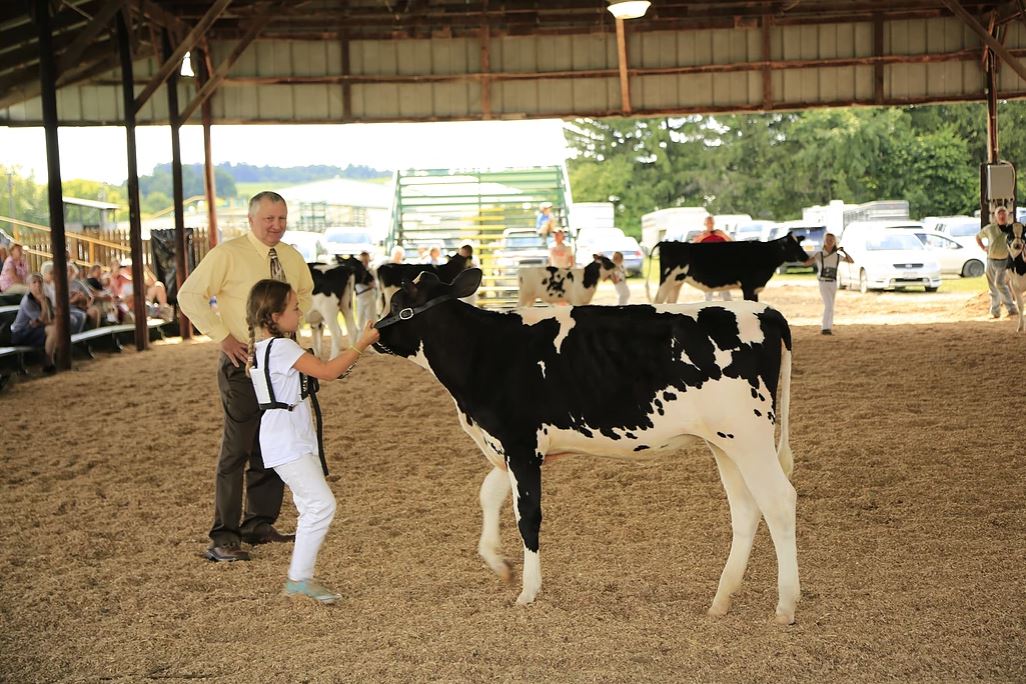 Photo Credit: Cortland County Jr. Fair organizers
Food is always a big hit come fair time and we're already preparing our bellies for a large helping of a fried or otherwise indulgent snack. From baked potatoes with all the trimmings to chicken BBQ, to hot dogs and funnel cake orders at the midway concessions, fair-goers will have plenty of choices to satisfy their hunger. Don't forget to stop by the Ag Tent on July 13th from 11 a.m. to 9 p.m. to get your hands on some dairy delights during Dairy Day.
Come see culinary creativity at its finest during the popular Jr. Iron Chef Contest on July 12th at 3 p.m. The challenge will pit teams of kids against each other to prepare a healthy and tasty recipe.
LIVE ENTERTAINMENT
The first day of the fair will see the Cortland County Jr. Fair Queen crowned at 7 p.m. The final two days will feature live bands in the evening. The John West Trio graces the fair stage on Friday at 8 p.m., followed by country duo Brianna Jessie and Chad Mac on Saturday starting at 7:30 p.m.
The fair will come to a close after their performance with the annual fireworks display.
---
DON'T FORGET TO TAG YOUR CORTLAND COUNTY JR. FAIR PHOTOS WITH @EXPERIENCECORTLAND AND USE HASHTAG #EXPERIENCECORTLAND.